Opus Interactive Steps Up to Tier 3 Data Center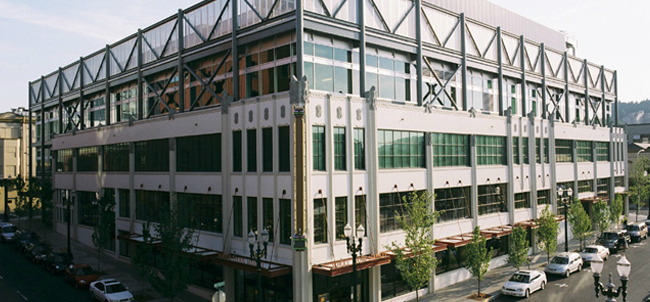 October 26, 2011 – A huge, state-of-the-art, highly secure data center that has remained largely empty since its opening in 2002 is the new home of Opus Interactive, an established Portland-based Internet and hosting services provider.
Opus Interactive is leaving its original location in Portland's Northwest Industrial District to move into 80,000-square-foot, 8-megawatt data center located in the Pearl District. The new facility will mean Opus Interactive can say "yes" to current customers who have been asking Opus Interactive to host more of their servers, and take on new customers, too.
"We've had to turn away colocation business from potential customers who had more gear than we can accommodate in the old data center," said Eric Hulbert, CEO of Opus Interactive. "Now we'll be able to extend our cloud services to clients who need more capacity and have more stringent needs for redundancy, seismic mitigation and security."
The Brewery Blocks data center is a TIA-942 certified telecom facility and Tier III commercial data center. Originally built by the telecom division of industrial conglomerate Tyco International, and now owned by Tata Communications, the data center was planned at the height of the telecom boom. By the time it opened in 2002, both the telecom industry and the Internet bubble had imploded, and there was far less demand for high-grade Internet connectivity than just two years earlier.
Now it's a different story. Both large and medium-sized companies demand the kinds of services that the Brewery Blocks data center was built to provide. Opus Interactive intends to take full advantage of that shift.
"We're seeing a strong surge in Portland's data center and hosting market with a lot of interest coming from businesses giving up on Bay Area colocation and hosting providers," said Mark Brody, founder and chairman of Opus Interactive. "We intend to meet that demand with this move."
The Brewery Blocks data center offers:
– TIA-942 certification, the highest level designated for a commercial telecom facility by the Telecommunications Industry Association
– Dark fiber connections to the Pittock Building, Portland's primary interconnection exchange point
– Access to Tata's undersea cable to Singapore, and to Tata's fiber network spanning both North America and Asia
– High security, including entry via ID card and monitored by CCTV, biometric access to private cages, and an industrial-strength fire suppression system
– 2N redundancy and robust power backup
"As part of the nation's critical communications infrastructure, this facility is considered 'hardened', and you really see what that means when you take a walk through the building. It's quite impressive," said Brody.
Opus Interactive plans to complete its move to the Brewery Blocks by January 2012, and will continue to serve customers' needs throughout the carefully choreographed transition.
Opus Interactive's services include:
– Managed services and colocation, including managed hardware, virtualized servers and both Windows & Unix custom hosting on dedicated servers
– Cloud computing services
– Data backup and recovery services (DR services)
– Green IT hosting
– Email hosting
– Shared web hosting
– Metro optical Ethernet, private lines and multi-location DSL
Apart from the technological wonders of the Brewery Blocks data center, Opus Interactive executives note that their clients will enjoy visiting the Pearl District data center, surrounded by great restaurants, hotels, shopping and leisure pursuits.
"For our out-of-town customers, there are so many great places nearby to stay, eat and relax while working on their gear," said Hulbert.
---
About Opus Interactive
Founded in 1996, Opus Interactive has earned a reputation for custom IT solutions that fit unique requirements for security, scalability, cost, and future growth needs of its customers. An accredited member of the International Managed Services Provider Alliance, the Company operates from Tier III+ data centers located in Hillsboro, Portland, Dallas, and Northern Virginia. Through close partnerships with industry-leaders and a commitment to customer satisfaction, Opus delivers custom solutions for Cloud Hosting & IaaS, Colocation, DRaaS & Backup, Object Storage, VDI, and Public Cloud Monitoring & Management.
Opus Interactive is a woman and minority-owned enterprise that has worked closely with VMware and HPE partnership programs since 2005. With past performance that includes more than 20 years of proven results and current compliance with PCI-DSS, HIPAA, FedRAMP Moderate Ready and SSAE 18 SOC 2 Type II, OPUS helps customers reduce cost and optimize resources using efficient operations.
For more information about Opus Interactive, visit www.opusinteractive.com.