Opus Interactive Announces 'This Is How You Cloud' Marketing Campaign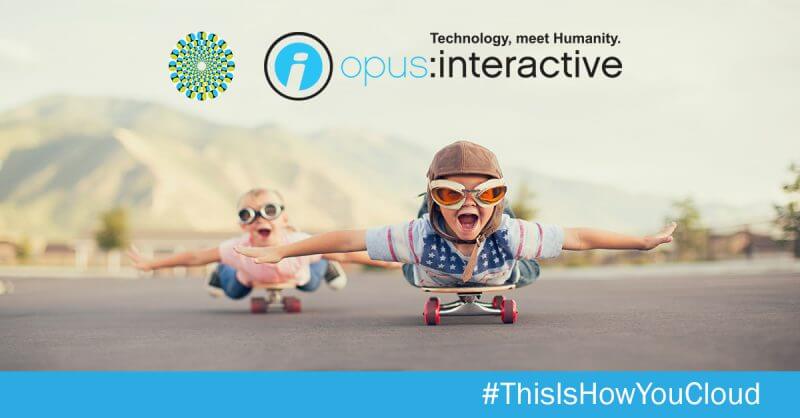 PORTLAND, OR. May 4, 2022 – Opus Interactive, leading hybrid and multi-cloud solutions provider reunites with original parent company, Opus Creative, for its new OpusCloud 3.0 marketing campaign in the United States.
The campaign:
– Extends the global service availability for tailored hybrid cloud services across the 4 Tier III data centers in the United States, and 18 global availability zones for VMC on AWS
– Comes to life for a global audience through storytelling and depictions of everyday people to demonstrate the benefit of tailored cloud solutions
– Features expertise at the heart of the creative, celebrating the experience and high-performance portfolio of services that enable hybrid and multi-cloud strategies
Opus Creative was selected as Opus Interactive's creative partner for the campaign due to their long-standing expertise in developing effective multi-channel creative campaigns, especially in the technology space. Historically, the cloud provider also once served as the IT department of the creative agency.
"Opus Interactive is so much more than a client to us. It felt like we were building something wonderful with our friends."

– Alisa Olson, Director of Client Services at Opus Creative
"Web 3.0 is here. And the more we know, the more we realize that cloud services are not a one size fits all solution. Instead, tailoring solutions that distribute workloads to the environments where they make the most sense for performance, security, compliance, scale, and cost that deliver the best results. The 'This Is How You Cloud' campaign takes a very marketing-savvy approach to this," said Shannon Hulbert, Chief Executive Officer of Opus Interactive. "Of course, we selected Opus Creative for the campaign. Their long-time work with world-renowned brands in the space shows the deep understanding they have of the end user, the end user needs, and shifting behaviors. But even more than that – they're the parent company that gave Opus Interactive its start. So, collaboration as we launch our global service offering brings it full circle."
Opus Creative is an integrated marketing agency operating out of a century-old warehouse in Portland, Oregon. Opus Creative develops campaigns with a wide range of tactics—from branding and design to digital builds and video—that work hard for their partners and authentically unite them with their customers.
"With the addition of Opus Creative to the campaign launch comes a huge value add: They know the space, they have mad creative skills, and with our shared history, they have the ability to push us into areas we might not otherwise go." Hulbert said.
"This project is a great endorsement of the team's tech sector abilities. It's also a testament to the inspiring collaboration that occurred at every creative touchpoint along the way. We trust each other and value what each team member brings to the table. We approached this project from a place of fun and open-mindedness. Opus Interactive is so much more than a client to us. It felt like we were building something wonderful with our friends." said Alisa Olson, Director of Client Services at Opus Creative.
Opus Interactive is springboarding the OpusCloud 3.0 campaign off 17 consecutive years of growth in the hybrid and multi-cloud space and a significant brand turnaround that began in 2011 when the current ownership aligned strategy and marketing efforts to support the founder marketing model. Opus Interactive has achieved an average of 25% percent growth YoY for the past 11 years. OpusCloud 3.0, available globally, brings together tailored edge to cloud solutions using public, private, and hybrid cloud solutions. The #ThisIsHowYouCloud campaign highlights expertise, performance, and compliance. With just the right amount of attitude.
About Opus Creative
Opus Creative is a full-service creative agency in Portland, Oregon that has been in business for 26 years. Their capabilities range from content and collateral to campaigns, videos, digital builds, and even AR games. They specialize in co-branded partner initiatives within their enterprise tech client network, working in both B2B and B2C spaces. Their core values center around their sustained long-term partnerships with their clients, allowing them to truly understand and strategize around the business objectives of each client.
For more information, please visit opuscreative.com
About Opus Interactive
Founded in 1996, Opus Interactive has earned a reputation for custom IT solutions that fit unique requirements for security, scalability, cost, and future growth needs of its customers. An accredited member of the International Managed Services Provider Alliance, the Company operates from Tier III+ data centers located in Hillsboro, Portland, Dallas, and Northern Virginia. Through close partnerships with industry-leaders and a commitment to customer satisfaction, Opus delivers custom solutions for Cloud Hosting & IaaS, Colocation, DRaaS & Backup, Object Storage, VDI, and Public Cloud Monitoring & Management.
Opus Interactive is a woman and minority-owned enterprise that has worked closely with VMware and HPE partnership programs since 2005. With past performance that includes more than 20 years of proven results and current compliance with PCI-DSS, HIPAA, FedRAMP Moderate Ready and SSAE 18 SOC 2 Type II, OPUS helps customers reduce cost and optimize resources using efficient operations.
For more information about Opus Interactive, visit www.opusinteractive.com.