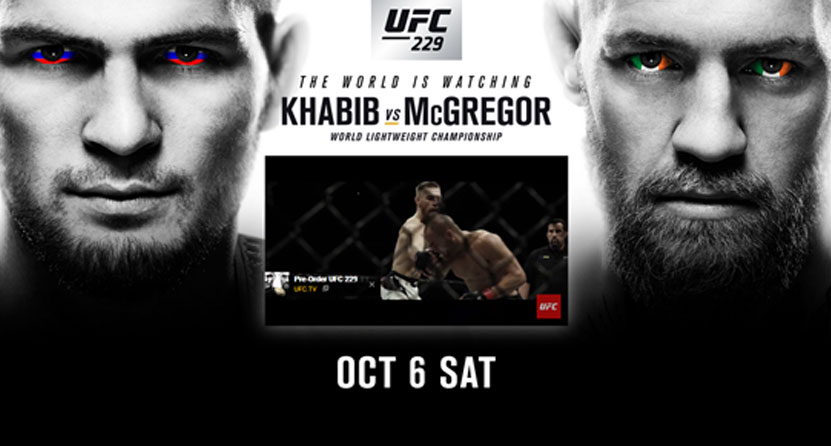 Official Fight Card of Cloud Computing
Categories / Uncategorized
With one of the most anticipated UFC (Ultimate Fighting Championship) fight cards of the year, UFC229 (Oct 6th), rapidly approaching, we couldn't help but to take this opportunity to build an analogy between Cloud Computing and Mixed Martial Arts (MMA).   To start, when you look at mixed martial arts one of the first things you have to consider is weight class. For those that aren't familiar, fighters are divided up into different classes based upon their weight taken immediately before a fight.
These weight classes help make sure the right matchups happen. You're not going to put a 265lb Heavyweight against a Strawweight fighter who, on a good day dripping wet and wearing 3 layers of clothing, might weigh 115lb.  Similarly, there is a correlation in the Cloud Computing space.  Not all clouds exist in the same weight class.  You have those cloud providers, like Heavy Weight Champs Amazon Web Services (AWS), who without question have the most customers, workloads, global reach, and most impressively they spent $7.24 Billion *(Companywide not just cloud spend) dollars in Q2 alone on research and development to maintain their dominance. You also have others, like Microsoft, who in comparison spent almost half of AWS.  Money spend on R&D is just one aspect, just as with the fighters, it's not about training camp alone.
So as a business owner, application owner, devops enthusiast, or just looking into cloud computing how do you know which fighter to pick? Some just go with the big name and the current champion.  Although there is some level of safety in the same logic from the 70's "no one gets fired for buying "Big Blue"" in this case it is more of a "Big Yellow" since IBM has been struggling to hone in on their cloud strategy.
We believe there are 2 key areas of focus in making your selection when navigating the nebulous cloud?
Fighters Purse and Fight of the Night Bonus (Cloud Price and Cloud Performance):
Although price is important, there are many factors that make up dollars spent. We want to just focus on two. If you look at cloud pricing just based on the CPU, Memory, Disk, Network elements you're really looking at a race to the bottom.  Susan Moore from Gartner wrote an article in 2016 where she highlighted the 3 drivers for cost reduction and the race to the bottom for infrastructure pricing.
As the Core 4 (CPU, Memory, Storage, and Network) continue to get better, faster, and cheaper it; married with automation and an ever increasing number of units sold; you will continue to see the margins for the hyperscalers get thinner and thinner.  Although in theory that isn't a bad thing, what it does do is force the hyperscalers to take one of two approaches to make up for loss of margin.   First option is they over subscribe resources to the point where "noisy neighbor" becomes a very real concern. How is your application and service really performing (fight bonus) when you are having to share the work? Or the second approach is they nickel and dime you on ancillary services. At every corner you are getting charged and asked to give up what you are trying to earn.  You know it's not simple pricing when you have to have "simple cost estimator" just to estimate the cost of running in a cloud.  That should tell you something. Just like the fighters expecting to get paid for their performance if they keep getting hit with hidden state fees, drug testing, gym fees, etc, they never really get to see the value in what they just earned.  In many cases that is how businesses and fighters go under.
Coach/Trainer
The trusted advisor in your corner is arguably more important than #1. The fighter's corner and coaches not only provide direction during training camp of what you should eat, practice, lift, sparring partners, etc.but as the fights go on in your career give you near real time feedback and coaching on how to be successful.  That level of visibility optimization, communication and on the fly adjustment recommendations make or break your cloud journey. How can you ensure you're getting what you are paying for if you can't see it? Having the right tools or service to provide you not only the visibility but the self-healing, machine learning automation engines required to be successful in the cloud ring is vital.
The days of AWS Cloudwatch, Azure Monitor, or any other native/point tool being enough to give you what you need are long gone. A fighter with just a boxing coach won't cut it. We all know you have to hedge your bets and be well rounded and shouldn't pick just one cloud provider.  Not all clouds are created equal, so why would you put all your eggs in the wrong basket for the right workload.  Just like the MMA fighters you can't be just a boxer, or grappler, you have to be able to do Brazilian Ju-jitsu (BJJ), and Muay Thai to round out your game. You never know what skills you are going to need to execute until the moment happens and you are prepared.  The cloud game is no different.  You need a hybrid or at least a multi-cloud answer. At the recently-held VMworld 2018 in Las Vegas, chief executive Pat Gelsinger, put it thus: "Every business is a multi-cloud journey." The reason is not hard to fathom. As billions of devices get connected (read: IoT, or Internet of Things), computing will be increasingly be done at the so-called "edge"—at, or near, the source of the data. Technology vendors like VMware believe this trend will prompt companies to process and analyze data using artificial intelligence (AI) and machine learning in a hybrid cloud operating model—one which embraces and employs characteristics of both the public and on-premises (private) clouds.
Products services, pricing, functionality and demands from your users are always changing, and you must be able to evolve at the same pace. You need a tool or service (trusted advisor) that can not only handle yesterday's workloads, todays workloads, but also future proof your tomorrow.  The only way to achieve success is by having one single view that plays the referee and judge, keeping everyone honest, watching 24×7.  The tool and service is only as good as the trusted advisors (coach/trainer). You have to provide the business intelligence required to make holistic business decisions; not a single vendor driven point tools subjective view.  It is the whole reason why referees don't have a vested interest in who is winning or preforming but simply exist to keep things clean and safe. The coaches adapt the game for the fighter as the referees and judges call it. We would argue using the right tool, services and right provider for the right job is the most important decision in the cloud journey.
Having that trusted advisor who really can give you best in breed for the right workload is the greatest path to success.  Who do you have in your corner?