Opus Interactive Named One of 2018 Tech Elite Solution Providers by CRN®
Portland, OR, March 27, 2018 – Opus Interactive announced today that CRN®, a brand of The Channel Company, has named the company to its 2018 Tech Elite 250 list. This annual list honors an exclusive group of North American IT solution providers that have earned the highest number of advanced technical certifications from leading technology suppliers, scaled to their company size.
To compile the annual list, The Channel Company's research group and CRN editors work together to identify the most customer-beneficial technical certifications in the North American IT channel. Companies who have obtained these elite designations— which enable solution providers to deliver premium products, services and customer support—are then selected from a pool of online applicants.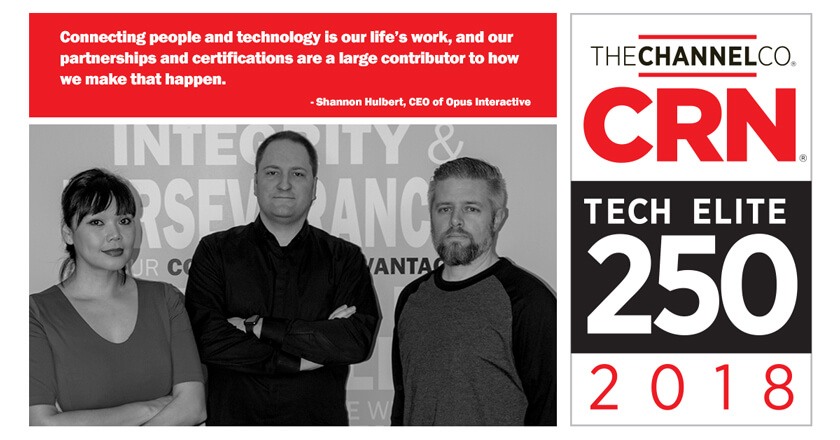 The Opus team has spent over 20 years honing a mix of purpose-built cloud and colocation solutions delivered from world class data centers in Hillsboro, Portland, and Dallas, with Virginia coming online this year. The company's commitment to training and certification has been a contributor to its 25% year over year growth for the past 5 years. A VMware and HPE partner for more than 10 years, the Opus team is experienced in the programs, systems, and technologies that businesses depend on from – public cloud certifications to data privacy and security certifications like SAS70/SSAE 16, PCI-DSS, and HIPAA.
"Being named to CRN's Tech Elite 250 list is no small feat," said Bob Skelley, CEO of The Channel Company. "These companies have distinguished themselves with multiple, top-level IT certifications, specializations and partner program designations from the industry's most prestigious technology providers. Their pursuit of deep expertise and broader skill sets in a wide range of technologies and IT practices demonstrates an impressive commitment to elevating their businesses—and to providing the best possible customer experience."
"Connecting people and technology is our life's work," said Shannon Hulbert, CEO of Opus Interactive. "Partnerships and certifications are a large contributor to how we make that happen. As early as 2003, we started working with HPE and VMWare to develop a service offering based on virtualization. That technology was later termed "cloud computing" and, today, we're a VMware Certified Enterprise Cloud Provider. We've continued to take that same approach towards innovation and developing expertise across our organization. Our goal is to continue to up level our service offering and expertise in the ways that deliver when, how, and where our customers need."
Coverage of the Tech Elite 250 will be featured in the April issue of CRN, and online at www.crn.com/techelite250.

About the Channel Company
The Channel Company enables breakthrough IT channel performance with our dominant media, engaging events, expert consulting and education, and innovative marketing services and platforms. As the channel catalyst, we connect and empower technology suppliers, solution providers and end users. Backed by more than 30 years of unequaled channel experience, we draw from our deep knowledge to envision innovative new solutions for ever-evolving challenges in the technology marketplace. www.thechannelco.com
The Channel Company, LLC. CRN is a registered trademark of The Channel Company, LLC. All rights reserved.
The Channel Company Contact:
Melanie Turpin
The Channel Company
(508) 416-1195
mturpin@thechannelco.com
About Opus Interactive
Founded in 1996, Opus Interactive has earned a reputation for custom IT solutions that fit unique requirements for security, scalability, cost, and future growth needs of its customers. An accredited member of the International Managed Services Provider Alliance, the Company operates from Tier III+ data centers located in Hillsboro, Portland, Dallas, and Northern Virginia. Through close partnerships with industry-leaders and a commitment to customer satisfaction, Opus delivers custom solutions for Cloud Hosting & IaaS, Colocation, DRaaS & Backup, Object Storage, VDI, and Public Cloud Monitoring & Management.
Opus Interactive is a woman and minority-owned enterprise that has worked closely with VMware and HPE partnership programs since 2005. With past performance that includes more than 20 years of proven results and current compliance with PCI-DSS, HIPAA, FedRAMP Moderate Ready and SSAE 18 SOC 2 Type II, OPUS helps customers reduce cost and optimize resources using efficient operations.
For more information about Opus Interactive, visit www.opusinteractive.com.