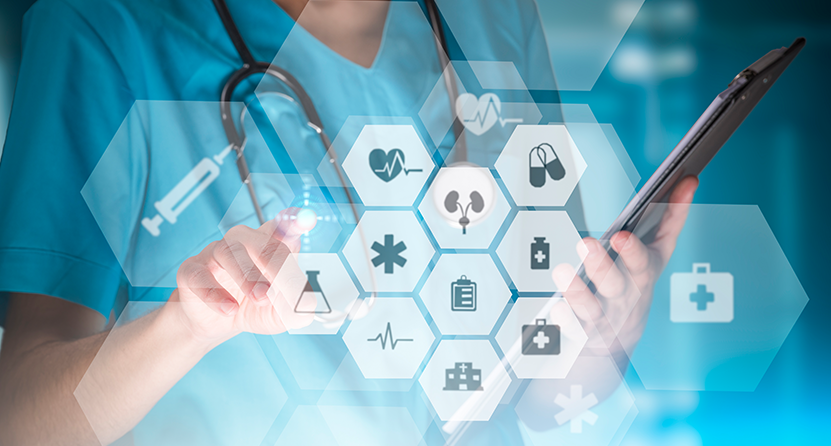 2019 Healthcare IT Trends
Categories / Uncategorized
At the close of 2018, there were more than 16 million people working in healthcare – an estimated 11% of all jobs in the US economy. Industry growth and demand for new technologies and digital health tools that enable healthcare professionals to collaborate and engage patients in their own healthcare journey is also on the rise.
Digital health tools that deliver a seamless healthcare experience between patient and practitioner are driving transformation within the industry — virtual caregivers, coaching apps, personal electronic health records, and new technologies are improving health, wellness, and longevity.
Telehealth
According to American Telemedicine Association, more than 50% of all US hospitals have a telehealth program. Statista shared results of a cross-sectional survey of patients and clinicians participating in telehealth revealing that the number of telehealth patients rose to 7 million in 2018. Reasons cites include convenience, quality, and overall satisfaction.
• 79% of study participants said that it was easier to schedule a convenient appointment time for a telehealth follow-up visit than for a clinic visit
• 68% rated their visit a nine or a ten on a ten-point satisfaction scale
• 66% said they had strong personal connections to their telehealth provider
• 62% said the quality of care via telehealth was the same as an in-person visit
• 21% said the quality of care via telehealth was better than an in-person visit
• average cost for a telehealth visit is around $45, compared to $125 average in-person visit

AI, Machine Learning and Analytics
According to estimates of a Frost & Sullivan Survey in 2018, AI for the healthcare (IT application) market is expected to cross 1.7 billion by the end of 2019.
Solutions that incorporate AI, Machine Learning, and Analytics are being used for image processing to detect abnormalities, risk analytics, preventative care, drug discovery, research and process improvements. Business intelligence dashboards that display hospital operations, infectious diseases, readmission rates and population outcomes are trending upward.
Many healthcare experts anticipate that operationalizing AI across healthcare work management would result in 10-15% increase in productivity in the next 2 years.
Blockchain
Global blockchain in the healthcare market is assessed to grow with 47.23% CAGR during the forecast years of 2019- 2027.
Use cases for blockchain in healthcare are beginning to take hold for supply chain, medical data, and administration needs. This is particularly true in United States regions where infrastructure is already in place to support the technology.
IoT, Wearables and VR
According to a report by Aruba Networks, the projected market for wearable technology in 2027 is $150 billion with 87% of healthcare organizations adopting IoT by the end of 2019.
The most common IoT, wearables and VR technology applications in healthcare today are:
• 64% patient monitors
• 56% energy meters
• 33% X-rays and imaging
• VR 3-D rendering and reality-based training
• VR immersive treatment for anxiety, stress relief, and physical therapy
Interoperability
As providers and vendors alike begin to build application programming interfaces that will improve data sharing among providers, align electronic health record data, apps and tools.
Hybrid Cloud Deployment
Distributing workloads across a right-sized mix of public cloud, private cloud, colocation, and on-prem infrastructure ensures performance, compliance and security.